NoteSync-- The Un-Cloud Solution for note synchronization
Don't want your information and data on some unknown server, located in an unknown place, run by the latest internet company to spring up this week?
Don't want any more web accounts with passwords to keep track of and possible monthly fees?
Then TopXNotes with NoteSync is the "Un-Cloud" solution for you.
Tropical Software, Inc brings "cloud-free WiFi sync" for home and small offices. NoteSync is local network based based synchronization between TopXNotes on the Mac OS X and TopXNotes touch on iOS. With the release of TopXNotes 1.6 for Mac you can now sync to TopXNotes touch on Apple's touch devices including iPad, iPod touch or iPhone. We have imbedded a new sync engine in TopXNotes Mac that establishes a WiFi link from Mac to device. Once the link is established you can copy device notes to Mac, and copy notes you select from Mac to device. The sync process will copy the most recently changed note (either direction), manage deleted notes, and keep your mobile notes and Mac notes in sync. You use your TopXNotes Mac key to control which Mac can exchange information with your devices. This prevents some random Mac running TopXNotes from easily syncing and grabbing your notes. Sync between multiple touch devices is supported. It will take you a few minutes to enter your Mac serial number (product key) into each device and set up a WiFi connection. Then you can start to enjoy complete control of what notes are copied to and from which device and when syncing happens.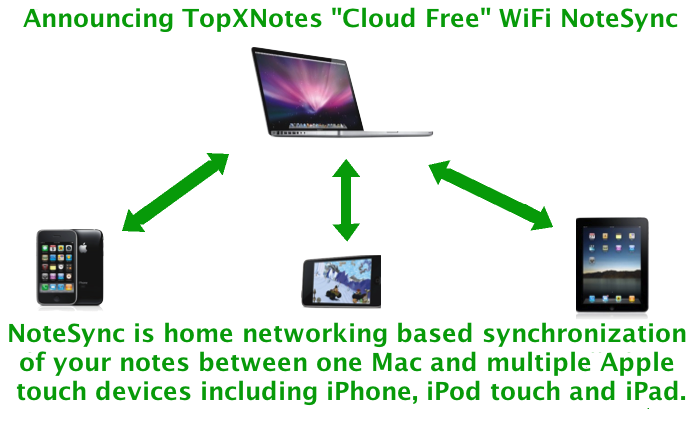 TopXNotes touch is available in the Apple store for $0.99.